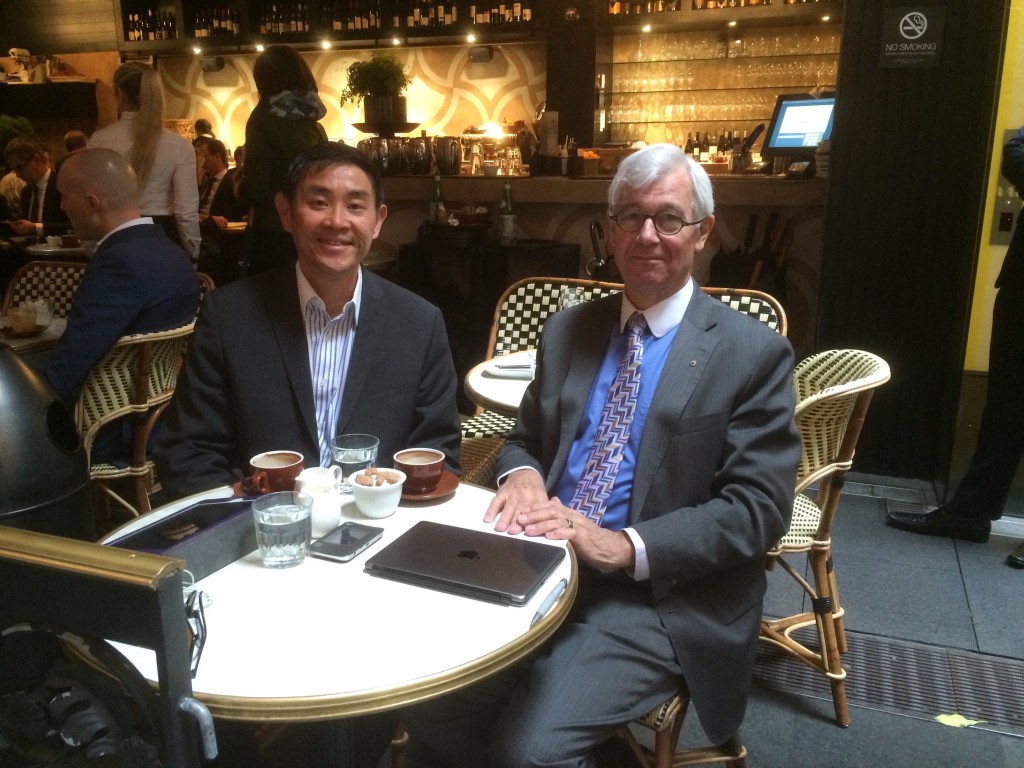 [update Sept 2016: a video of Estivo Trio playing this work in Sydney]
__________

Last month Julian Burnside and I were chatting at the Melbourne International Chamber Music Competition, and I realised he was sizing me up for an unusual commission.
Julian said, "Normally when I commission a piece, I give the composer a completely free hand. But for the first time, I have very specific requirements. I want a short piece for piano, violin and cello, it must contain quotes from famous pieces of classical music, and it must be called Wind Farm Music, Dedicated to Tony Abbott".
"Political? Of course," Julian said. "There is a long and honourable tradition of art in service of political protest. That's why politicians are a bit jumpy about funding the arts. This music is intended to counter the absurd idea that wind farms are "ugly"; a reminder that harnessing the wind to help save the planet is a fine thing. It is a reminder of our obligation to future generations."
Me, I don't write overtly political music, though politics is at the heart of the work I'm most known for, the AIDS Memoir Quartet. And yet, I instantly "saw" the music. I completed the work in 6 days and penned the following note to the score to describe what I saw.
"This music is a vision of happy wind turbines, high in the air, soaking up the sunshine, catching fragments of music that rise into the sky after it leaves the ears of the people who listen to them. The music tangles up in their airfoils and the turbines are laughing, delighted."
This is music that's cheery, playful and breezy (pun intended), despite the deeper truth the music acknowledges. From the windmills of the middle ages to the first electricity-producing turbine in the 19th century, human beings have ground grain and pumped water with wind power. The music I've quoted – the music of Beethoven, Bach, Vivaldi, Schubert, Rossini, Massenet, Bizet, Saint-Saëns, Johann Strauss, Jr. – was around at that time, and this music is still here today, reminding us that it witnessed a human race who knew a kinder and more loving way of fulfilling its needs.
I've subtitled the piece "A quodlibet for piano trio". A quodlibet is a musical work made up of fragments of other music. Great composers throughout history have written them, including famous examples by Bach (the last of the Goldberg Variations) and Brahms (Academic Festival Overture), and I'm exhilarated to extend the tradition.
As it was desirable for the tunes to be instantly recognizable, I focused my creativity not on transforming them but on original and revelatory ways of sounding two or more musical pieces simultaneously. So Schubert's Trout magically accompanies Mozart's Marriage of Figaro and Bizet's Carmen, while the Ave Maria of Schubert in turn is buoyed by Bach's C major Prelude.
In my personal favorite moment, Massenet's 'Méditation' from Thaïs and Bach's Air 'on the G string' sing movingly to each other. It is an extraordinary duet and was a provocative epiphany for me; if a Romantic music about a priest with lustful thoughts and a Baroque music of numerological precision – separated by nearly two hundred years – can be entwined so naturally, what else can we make see eye-to-eye?
Wind Farm Music, Dedicated to Tony Abbott will receive its world-premiere performance by the Seraphim Trio at fortyfivedownstairs, Melbourne on August 19 2015, followed by a performance at the State Library of Victoria on the same day and one at Port Jackson Press the next day.
Articles in other media:
Daily Review (Crikey) .
The Age/Sydney Morning Herald